How Our Site Works
StartOverGamesLLC.com was designed with local impression in mind, to help maintain proper stock levels for our customers, and to be more than just another retro video game store. With that said, we still consider anyone who chooses to interact with us, local or not, to be one of our customers and promise to do what we can to help them out.

How to Buy from Start Over Games
Our website allows you to shop with us in two different ways: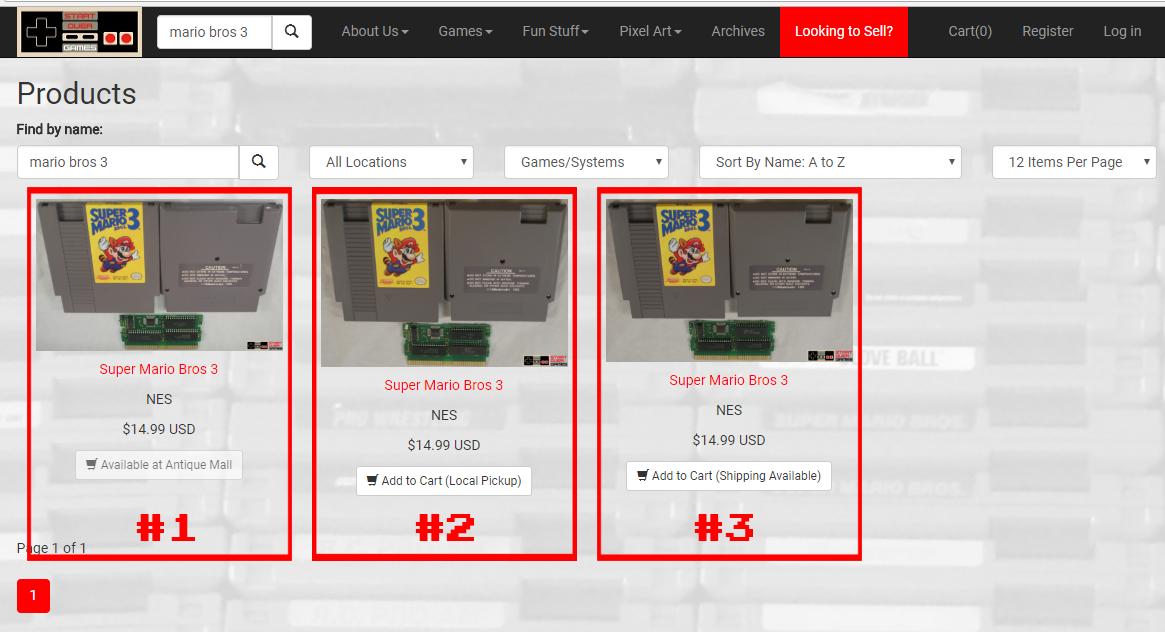 (An example of the two different ways to shop Start Over Games)
Any product marked "Available at Antique Mall" is available at our case inside Memories Antique Mall in Little Chute, Wisconsin. Their business hours are 10 am to 6 pm seven days a week. Unfortunately, we do not get instant updates when something sells there, so if you have a question about product availability you will either need to contact us or call them. We do offer a 24-hour hold period on anything in our case, so if you would like something set aside, let us know! It's also worth mentioning that Thursdays are generally our day to update the case. In addition to stocking it with new items, we will also remove anything that has been sold from this website.


Products marked as "Add to Cart (Local Pickup)" can be bought directly off of our website by anyone within a hundred-mile radius of Memories Antique Mall. These Items will be delivered to the Antique Mall on the Thursday after they are purchased and can be picked up anytime within two weeks of delivery. You will be required to have your order number and photo ID at the time of pickup, so please bring them along. Any item purchased on the website will automatically be marked as "Sold", so everyone will know if something is still available. We do require a minimum order of $5 to help us offset any PayPal fees.


Check out this video on how to shop with us:
Products
At Start Over Games we take a great amount of pride in making sure our products are cleaned and tested before being put up for sale. We clean and test every system, game, controller, and accessory we sell. Most systems and cartridge-based games are disassembled to ensure proper cleaning and function. When possible, we try and send our systems out with RCA cables instead RF switches, as a RF switch produces a poorer picture quality on a HD television. We also check the batteries on games and if needed, replace them. (Please note, we test our games on the original systems they were meant for. For example, we test SNES games on a Super Nintendo System, not a third-party system.)
We also take the time to use photos of the actual games and systems you will receive, unlike other websites that use "stock" photos. This is done so you know exactly what you are buying and what the condition of the item will be.
Both this website, and our case in the Antique Mall will be updated with new product on a weekly basis.
---